Even with the economic challenges posed by the Covid-19 Pandemic, 2020 marked the sharpest improvement in US credit scores this decade. Take a look at the average credit score by state and see how yours compares.
---
Key Points:
The average US credit score reached a record high in 2020, despite the COVID-19 pandemic.
Government relief efforts may have had a hand in this spectacular improvement.
Credit score improvements varied by state.
If needed, it's important to get credit card debt help to eliminate debt and improve your credit score.
---
With its public health and economic challenges, 2020 was a year that had a deep impact on every aspect of our lives, including our finances. That said, credit scores across America tell a tale of resilience and increasing financial responsibility in the face of adversity. According to a recent Experian State of Credit report, the average FICO score in the US reached a record high of 710 points in 2020.
Faced with the possibility of a complete financial meltdown, many Americans tightened up their credit profiles and improved their overall financial health.
According to Experian's analysis, all major credit score components improved across the nation. This means people improved their payment history, reduced their credit utilization ratios, and made more payments on time, decreasing the incidence of late payments. Credit card debt also declined.
Government Relief Efforts Helped
The same experts have cautioned, however, that there may be other drivers behind the unprecedented seven-point annual improvement of the average FICO score. Government assistance has played a role in dampening the impact of the COVID-19 crisis, and lawmakers are busy preparing further measures.
In addition to stimulus checks and a bevy of options to help consumers in financial crisis, lenders went out of their way to work out favorable payment accommodations. Some may even have held off on the reporting of missed payments as a form of reprieve for their clients.
Exactly how significant a role the government's recovery and stimulus efforts have played in the boosting of credit scores, we will find out when the provisions of relief laws, like the CARES Act, expire for good.
For now, however, the improving credit picture is cause for cautious optimism.
How Is the Average Credit Score Shaping up By State?
Credit score improvement has been a trend since 2010. Between 2010 and 2020, the average FICO score improved by 21 points. Of those 21 points, 7 points, representing one-third of the total, happened in 2020.
On the state level, Washington, DC has registered the largest boost to the average FICO score. Arizona did just as well, followed by Delaware, North Carolina, and Idaho.
| | | |
| --- | --- | --- |
| State | Current Average Credit Score | FICO Score Improvement from 2019 to 2020 |
| Washington, DC | 713 | +10 |
| Arizona | 706 | +10 |
| Delaware | 710 | +9 |
| North Carolina | 703 | +9 |
| Idaho | 720 | +9 |
The "worst" performing states were the Dakotas, Hawaii, and Nebraska. It is worth pointing out, however, that these are the states that have the highest average credit scores, and had higher than average credit scores in 2019 as well.
| | | |
| --- | --- | --- |
| State | Current Average Credit Score | FICO Score Improvement from 2019 to 2020 |
| North Dakota | 730 | +3 |
| South Dakota | 731 | +4 |
| Hawaii | 727 | +4 |
| Nebraska | 728 | +5 |
| Vermont | 731 | +5 |
States that had great average credit scores managed to improve further in 2020. Those with lower average credit scores caught up successfully, registering more significant average credit score improvements.
VantageScores have reflected similar trends according to an Experian study that looked at average state VantageScores for the first two quarters of 2020.
States with the Highest VantageScores
State
Score
Minnesota
720
Vermont
712
South Dakota
712
New Hampshire
711
Wisconsin
711
Check out how your state stacks up on this map compiled by HuffPost using the Experian data: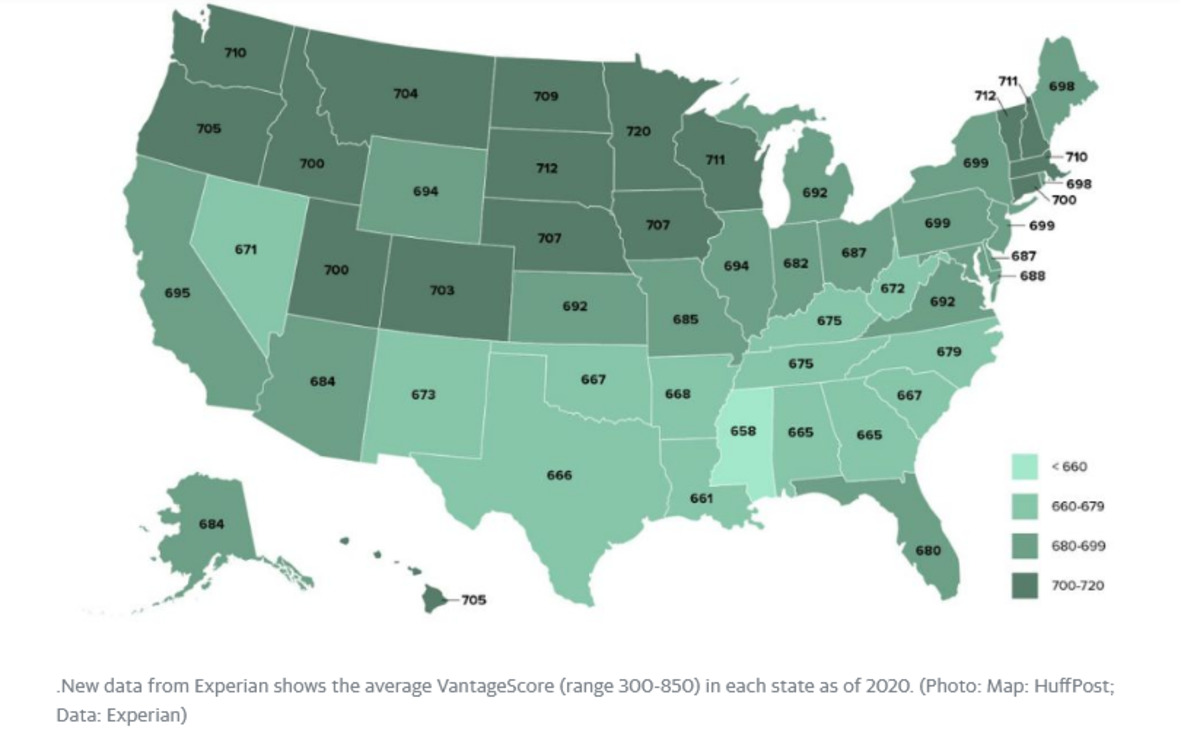 Has Your Score Improved?
How does your credit score compare to these newly improved state averages? Have you managed to solidify your financial situation, reducing your credit card debt?
If you do not know your credit score, there are four ways in which you can find it out.
Check your monthly credit card statement. It may include your credit score.
Consult a non-profit credit counselor. Approved counselors may have access to free credit reports.
Some websites may give you your credit score for free, depending on their business model.
Contact a credit reporting company and buy a credit report.
How to Improve Your Credit Score
There are a handful of components that make up your credit score, such as your credit utilization ratio, credit history, credit mix, etc.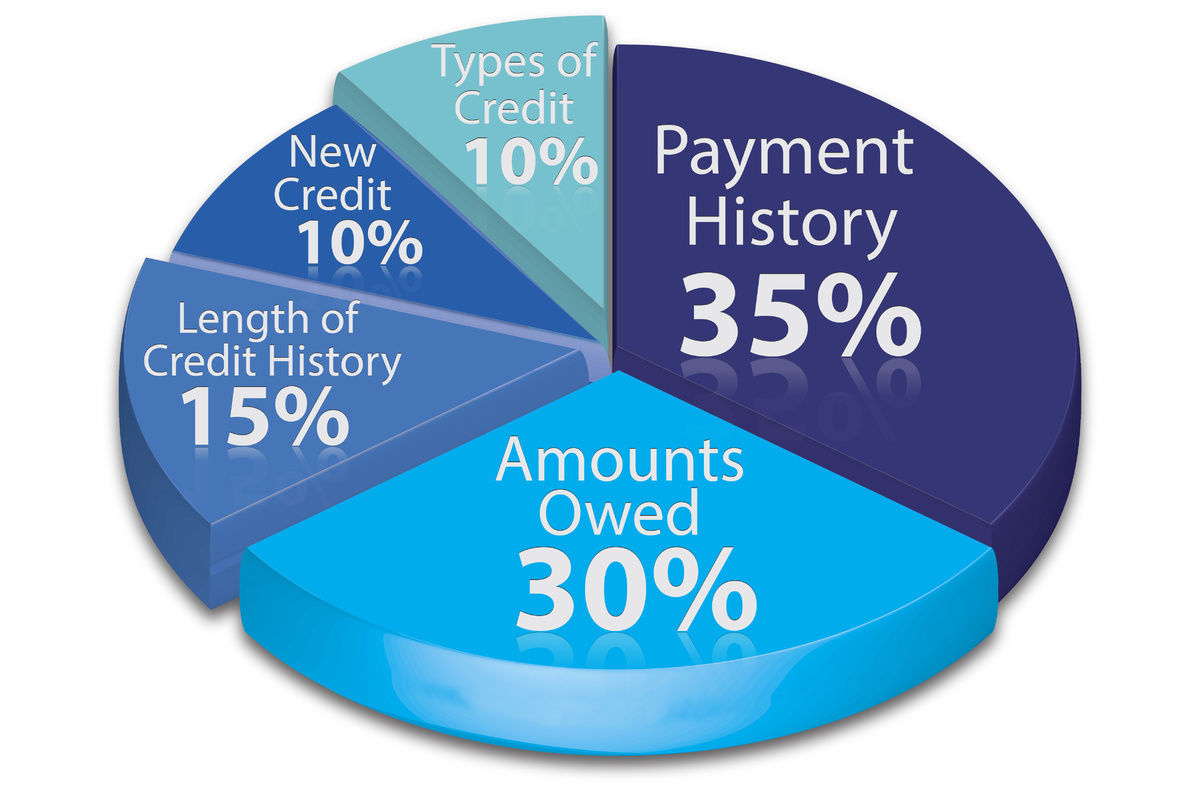 The best way to improve your credit score is to improve each of its components. Reduce your credit card debt, thus reducing your credit utilization ratio. Make your payments on time, so your credit history does not suffer.
Do You Need Credit Card Debt Help?
Regardless of the severity of your financial situation, there are always reasonable ways to obtain credit card debt help. Contact a ClearOne Certified Debt Specialist at 866-481-1597 to find out which credit card relief options may be the best for you.
Do not procrastinate. If you have a credit card debt problem, address it right now. Get a free savings estimate today.