If you are struggling with a heavy credit card burden, you owe it to yourself and your family to explore all your debt relief options. The sooner you do so, the sooner you can find your way to true financial freedom.
Debt settlement is an attractive option for many people who have a serious amount of unsecured debt. Unlike some other forms of debt relief, debt settlement saves you money by potentially reducing the principal balance owed on your accounts so that you can pay off your accounts for less than you actually owe.
How Much Money Can Debt Settlement Really Save You?
According to a May 2020 report about financial outcomes for debt settlement programs by Will S. Dobbie of the Harvard Kennedy School:
Every $1 you pay in fees to your debt settlement company results in an average of $2.67 of debt reduction for you.
On every settled account, debtors save an average of $1,700 after fees.
Total program savings per individual, with an average of 6.68 accounts per individual, amount to around $5,800 after fees, on average.
After fees, individuals get a write-down of 33.2% on average, on settled accounts.
Debt Settlement Outcomes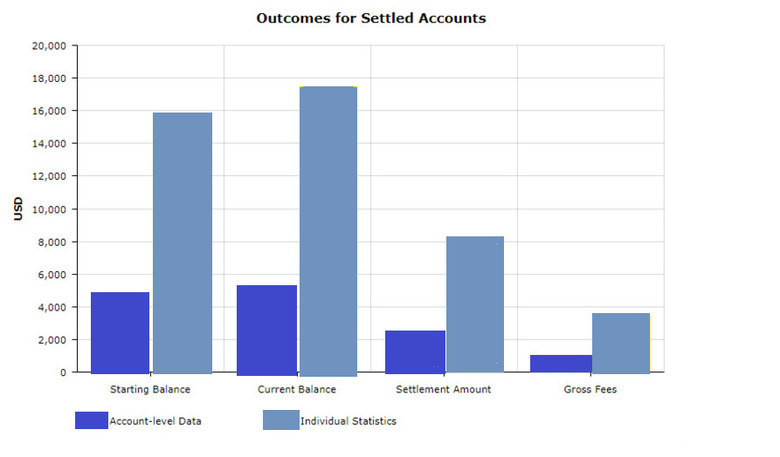 (Source: Dobbie Report)
In this chart, we used time frames of 13.81 months on accounts and 12.04 months on individual statistics. The chart makes it clear that while your balance goes up during this time due to interest and various late fees, you end up paying back significantly less.
With a starting balance of $4,667.80, on a single account, you will see your balance go to $5,174.93 after 13.81 months, but you will only pay $2,437.79 on the original balance. For this principal reduction, you pay your debt settlement company $1,018.36.
How Much Can You Save with Debt Settlement?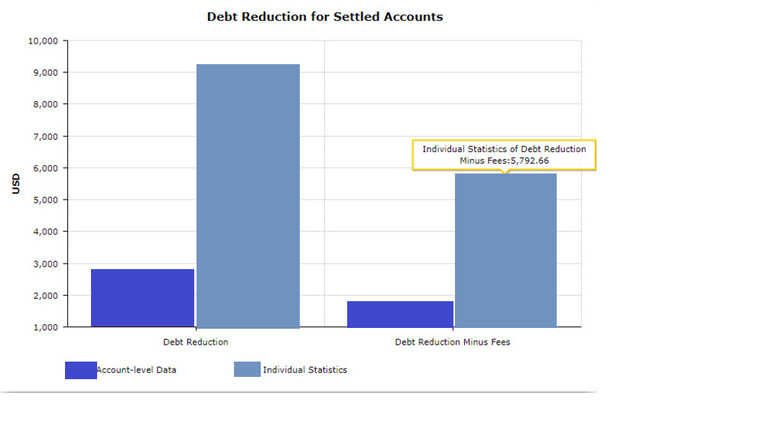 Thus, your debt reduction will be $2,737.14. Since you pay the debt settlement company $1,018.36 for its services, you end up with savings of $1,718.78.
Remember:
These are hypothetical numbers, resulting from a scientifically conducted study that has averaged out all the variables used in the calculations. In your particular case, the numbers may differ somewhat. Talk to a ClearOne Certified Debt specialist for specifics.
The money you save through debt settlement carries certain tax obligations.
What You Should Also Know About How Debt Settlement Works
The numbers above were drawn from debt settlement enrollees who participated in a program for at least 36 months. The longer you stick to the program, the better your results will be.
If you stay enrolled for 36 months, you will likely settle 3.37 accounts, covering around 51 percent of your enrolled debt during this time.
More than half (54%) of debtors enrolled in debt settlement resolve around half of their total debt during their first 36 months.
Some do better; 37% resolve 75% of their debts during this time.
Those focused on getting out of debt may resolve 100% of their debts in 36 months. Some 18 percent of enrollees fall into this category.
How much money can you save with debt settlement? It depends on the level of your indebtedness and the number of accounts you have. You should know that post-enrollment statistical data on debt settlement outcomes favors those with more debt.
Start tackling your debt today. To learn exactly how much you can save through debt settlement, get a free savings estimate and talk with a ClearOne Certified Debt Specialist at 866-481-1597.